There is an increasingly awareness of and discussion about porn/and or sex addiction, in terms of whether a sense of compulsion and lack of control in this area of functioning should be recognised as a clinical condition.
Click Here to read a recent article form BBC News.
When we think of addiction, we think of a something within our life that we feel compelled to engage with, even when it may be causing us and/or others around us harm, which we do not feel able to control in terms of an overriding  preoccupation which is detrimental to wellbeing.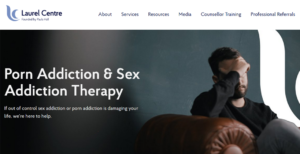 The Laurel Centre has available on its website a questionnaire which can help you to find out if your relationship with sex and/or pornography has become harmful for you. The site also offers some great wisdom and advice on how to start to address the issue.
Click Here to visit the Laurel Centre website and take the questionnaire.