Introducing Kenny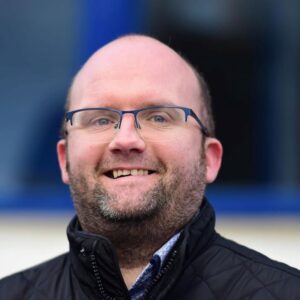 Hi my name is Kenny and I am married to my wonderful wife Rhonda with two beautiful children Grace and Sonny. I am 35 and originate from Ballysillan in North Belfast but moved down the Ards Peninsula to Ballyhalbert.
In 2012 I lost my mother when she was 59 to Lung Cancer, this was a devastating time for my family. I was very lucky to have a supportive wife, family and in-laws. In 2016 I then lost my father to a heart attack, another devastating blow.
Looking back without the support of my wife, family and in-laws it would be difficult to comprehend what would have happened.
Since then I became involved in Portavogie Rangers Football Club in 2017 as a Club Secretary. during my time there I set up Here4All, a mental health awareness group which is still active in the Community, having a great relationship with local schools and setting up their own walking group who meet once a month. We also promote mental health on various dates throughout the year.
I then joined Linfield Ladies Youth Academy before moving onto Down Area Winter Football League as League Secretary.
I am now the Mental Health & Wellbeing Officer for Bangor Football Club, so my involvement in Sport has gone from administration to mental health.
Alongside this I am also a Community Outreach Officer for the Department for Communities (DfC) and I am studying to be a counsellor.
I am also a listening volunteer for the Samaritans in their Ards and North Down branch, and most recently I have become a befriender for UHub, based in Bangor.
I would like to dedicate account this to all the people who have helped me, not forgetting Sara. I am worthy!
Kenny's Story – Helping Others Helps Me
The death of both my parents was difficult to deal with, especially as they were quite young. I developed anxiety, and my self-esteem was affected badly also (I have made great strides since and I am reaching towards my optimum).
On the outside I had a good life, beautiful wife, children, our own home and financially stable. However, I found myself languishing and didn't have the knowledge on how to recover from my grief.
Getting involved in football and more importantly the Irish Football Association (IFA) Foundation I became fortunate to develop knowledge, insight and wisdom on mental health and mental ill-health.
I became involved as a Grassroots Volunteer through the support of Michael Carvill, and met Joe Donnelly, and Gavin Nelson, and that is where the transformation in my wellbeing has been phenomenal.
I started to co-deliver the Ahead of the Game workshops, and started to learn the difference between mental health and ill-health, the risk factors associated, and how to link in with support and services that were out there.
The IFA put me through my first Mental Health First Aid course, and I have completed courses in SAFETalk, ASIST and others. I have most recently been enrolled on a Compassionate Inquiry course by Gabor Mate.
Whilst the pandemic was a challenging and horrible time for a lot of people, it gave me an opportunity to reflect. I developed a love for reading and came across some fantastic books such as Daring Greatly by Brene Brown. It helped me understand that we often associate shame with vulnerability. It helped me to accept that being vulnerable doesn't necessarily make you weak.
It was liberating and made me realise that things weren't as bad as I believed them to be. Reading continued and I have read great books such as: The Body Keeps the Score by Bessel Van Der Kolk;  Mindset by Dr Carol Dweck and Difficult Conversations by the Harvard Negotiation Project.
I was able to learn that sometimes I struggled to contain myself. I would come up with an idea and feel like I would have to commit to it. Whereas complimenting it with using the rational part of my brain would help me make better decisions.
This was all down to understanding the science between the mind and body and how the brain works. Understanding how when we are stressed out the amygdala can fire stress signals and take control of the pre-frontal part of our brain.
Through my counselling studies I have also completed a lot of self-reflection, and it has help me understand my journey and how to improve all aspects of my life. Feedback from peers highlighted to me that I can be at times overly-critical of myself, a moment of insight that I can grow from.
In my full-time job as a Community Outreach Officer for DfC (to be honest I don't consider it a job as I love the role) it is my privilege to be in a position to help others in need. It does put me in a position though to see that mental health struggles in others is increasing, and there seems to be a growing concern regarding an increase in eating disorders in young males.
I would recommend anyone to get involved in your local sports club, even if it isn't in a sporting capacity for the benefit of your mental health.
Getting involved can enable you to make good friends, have fun, and make a real contribution back into your local community. Giving you a sense of worth, connection and purpose.
Since becoming involved in sport I have loved it, and it has given me so many opportunities to meet some great people.
Sport clubs are a real asset to their communities, and you can make a real difference by helping them flourish. They are a great vehicle for promoting positive mental health, and they can be a sanctuary for many people to get away from daily struggles. Those few hours a week can be fundamental in the development of positive mental health. This is why it is so important for the excellent work that the IFA and other associations are doing to continue.
It is now the time to equip our communities with the skill set and resources they need to develop and harness mental and emotional resilience. Resilience will be the next important milestone in overcoming this massive challenge we have with mental ill-health.
Getting involved in helping others through one of my passions, sport, has made a massive difference to my mental health, and I know I have also helped others with their mental health too. You too can make that lasting difference.
"I have been able to educate myself on developing my self-esteem. I have a lot more belief in myself and pride in my achievements now. I recently completed the Belfast City Marathon, and I am so proud of myself for that. I am now look at myself in the mirror every morning and say 'I love you'. I have built my resilience and I am able to bounce back from situations I find difficult, quicker, and more efficiently. However, I have coined a phrase for my life and that is 'existing days'. These are days in which we aren't feeling strong physically and emotionally, but realise that we are capable of betters things, and tomorrow is a new day…"
Connect With Kenny